#3 Episode - Building a Legal Autopia
My drive to building automated legal forms for emerging fund managers
KEY TAKEAWAY: Form building technology will fundamentally change the way we practice law. Over the next coming weeks, I will be releasing free, investor-ready templates for emerging fund managers.
Standard Legal Forms
In the last decade, there has been an explosion of free, standard legal forms. Y Combinator's Safe, Fenwick's Series Seed "dot com" forms (+ Cooley's derivative), and the National Venture Capital Association's long form have provided a trove of legal documents. Last week, Fred Wilson (@avc) posted a link to these resources. Fred wrote that a venture deal shouldn't take longer than a week, provided both sides agree to use a standard legal form and keep their lawyers at bay. He also wrote this, which I respectfully disagree with:
"There is this narrative that equity rounds are expensive and take a long time and that SAFE notes are quick and inexpensive. That is not right."
1. Nothing is Standard
Based on my 12 years of practicing law, parties to a venture deal rarely stick to the four corners of a standard contract. Even if the venture capital industry swore off lawyers, it might save on legal fees, but the parties would be giving up one of their most fundamental rights—the freedom of contract. Some people like limiting their choices. Not Americans. And certainly not VCs or founders. They don't like one-size-fits all legal arrangements. As Fred Wilson himself noted about the VC industry:
"Nothing is standard."
2. Lawyers Cost Money
While the use of standard legal forms has expanded over the same 10-year stretch, the average corporate lawyer's fees increased by 60%. In 2010, it was newsworthy to see which law firms had partners charging $1,000 per hour. Today, the $2,000 per-hour does not even raise an eyebrow, at least in the corporate setting. The average big firm partner raked in $2 million in profits for 2019.
While it may not be "right," startups spend an average of $77k per year on legal. And for venture deal financings, the average legal costs for a Series A range between $50k to $65k—notwithstanding the additional ~$30k in reimbursement costs to the VC's lawyers. Over 95% of corporate lawyers in private practice still use the billable hour as their primary method of billing, and until the billable hour dies, not much will change.
3. Death of the Billable Hour
Since the dawn of computers, many have predicted the death of the billable hour. Everyone wants to automate and scale the practice of law. Atrium, a tech-enabled law firm and startup that raised $75 million, including from a16z, shut down its software business earlier in 2020. But they were not the first company to try and automate legal services and they certainly won't be the last.
Many lawyers will disagree with me but the billable hour will fall out of favor to firms selling SaaS legal products and alternative fee arrangements such as flat fees. Whether this will happen in 5 years, 10 years or more is an open debate. But it will happen. The question is only a matter of timing.
I'm not living in the future—I'm just looking at what's around me and connecting the dots. As one of the core tenants of Benchmark partnership states:
Our job is not to see the future, it's to see the present very clearly.
---
---
LegalTech Disruption
1. My Quest for an Automated Document Solution
About a year and a half ago, I went searching in earnest for a legaltech product that would allow my law firm to scale its offerings. I ended up deciding on Woodpecker, a user-friendly Word plugin tool that helps users automate their documents. In 2018, Zapier voted it the #1 best free Word add-in tool. In 2019, Above the Law did a survey in which readers voted it the #1 legal technology startup chosen for the American Bar Association (ABA) TechShow. In 2020, a group of German academics published a Legal Document Automation Tool Survey that did a teardown of the legal document automation industry (PDF download). Woodpecker attained one of the highest marks: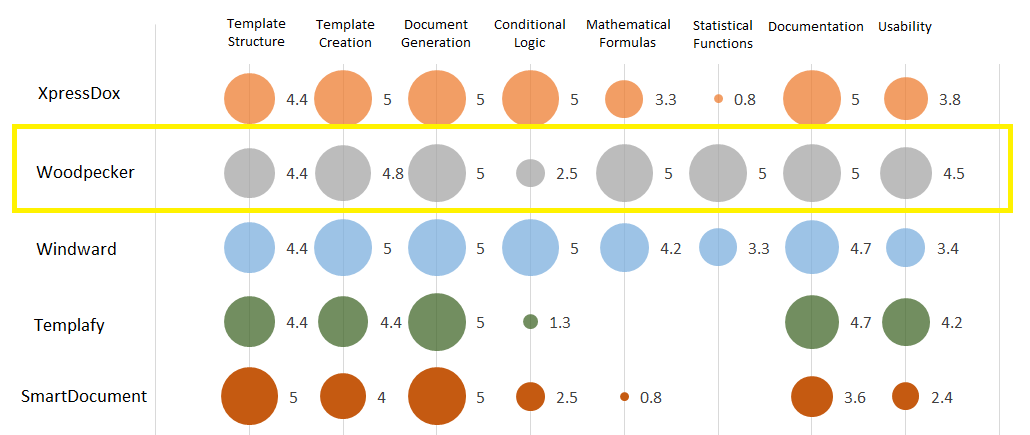 2. A Shift in a Lawyer's Mindset
The Woodpecker software has fundamentally changed not just the way I think and practice law, but how it has impacted others around me. One of my former law clerks worked for a prestigious law firm this summer. He completed the most projects in the fewest number of hours for his entire class. Another colleague terminated his paralegal because litigation dried up, but he was able to save and grow his practice by implementing Woodpecker to automate his discovery forms.
Retooling my own forms has unlocked a number of benefits:

Legal Products. My firm now offers flat fee packages for common builds—Incorporations, Stock Option Plans, SPV/Fund Formations.

Reduction in Errors + Document Sets. Simple typos can be minimized. Copying a wrong name over several different places is now confined to one field. And because one field can be saved across multiple forms, one change can be made across documents with the click of a button.

Clean Legal Forms. Sensitive information can be stripped away with one click of a button. Transactional lawyers spend hours each year cleaning up their forms. "Can you please just send me the form?" is never a simple request. It takes time to edit it, you can't really bill for the work and there's always risk of leaving privileged or sensitive information on the form. Since moving to form automation, we don't make that mistake.

Reduction in Skills Needed. With a legal form automation system, you don't need lawyers or legal engineers who are trained in the law to edit it.
3. It's Time to Build
Using document form automation tools is a lot like driving a car at Autopia, the racecar attraction at Disneyland. The premise of Autopia is simple. You get in a car and drive. Kids as young as two-years-old can hop in a car with an adult. Several vehicle options are available. Drivers have freedom to operate the steering wheel but a center rail keeps the car from veering off track. Since the attraction opened in 1955, Walt Disney brought the joy of driving a car to generations of children.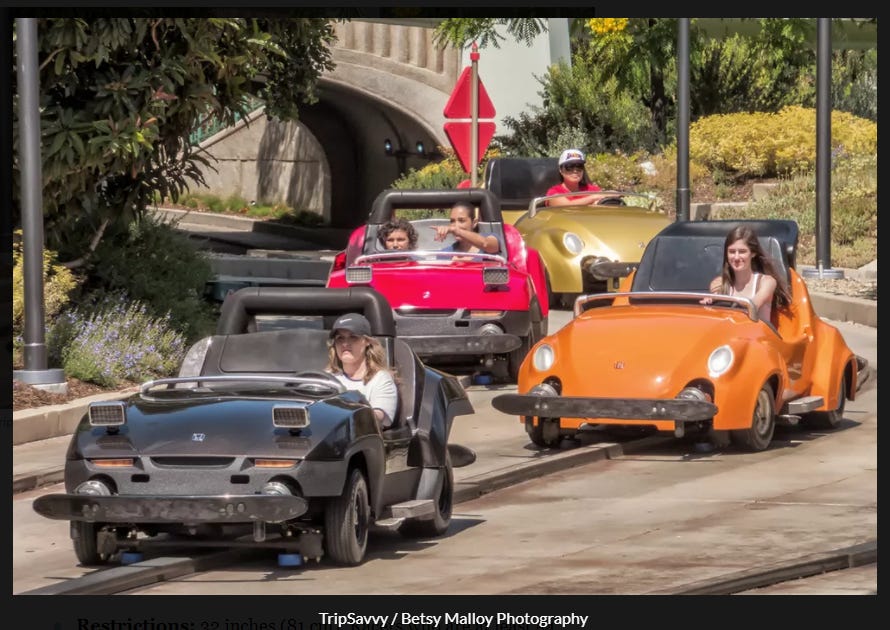 A similar experience happens with Woodpecker.
Practically anyone can edit a legal form without knowing how to practice law. They don't need to worry about veering off track because the lawyer can setup guardrails. All that is needed is pointing the form in the right direction. The legal text is never touched.

The problem, of course, is that just like the Autopia system, someone needs to design and build the racetrack. Creating those forms from scratch takes a lot of experience, time and effort, but not as much as you might think. And once you start with the basic building blocks, building new forms gets easier over time, because Woodpecker form structures can be copied and pasted into new forms.

Here's what the back-end interface looks like for Woodpecker users:
---
---
A New Decade of LegalTech Disruption
1. The Competition
Of course, Woodpecker is not the only player in the game. As the German survey shows, there are many companies offering document automation tools.

For example, the team at ShooBx showed me a demo of their NVCA form builder for Series B+ Preferred Stock. It works well for its intended purpose, which is to generate documents based on NVCA's standard legal forms.

Rocket Matter, Clio and MyCase also have built-features for document automation. The same goes with other software solutions like Anduin Transactions, which built a beautifully designed tool to generate Safes, among other legal documents. And perhaps the biggest incumbent is Contract Express, a Thomson Reuters property, built for big law firms.

Most of these companies are building platforms instead of single player tools to make automation look easy and simple. However, I think that's a mistake if their target users are lawyers. Building a platform instead of a tool ignores a key principle in product theory: Go to where your target users are at. And like it or not, lawyers live and breath in Microsoft Word, with all its faults.
2. What the Experts Say
For the past ~30 years, lawyers have predicted the coming of age for document assembly solutions. In 1992, legal form automation was going to be THE NEXT BIG THING at the ABA TechShow; it was lauded about as much as AI is today.

Two reasons why that didn't happen until very recently:

No seamless integration with Microsoft Word

Automation tool must be available for the entire cycle of the deal

Woodpecker has solved both of those problems. It works seamlessly in Word as an add-in tool. Forms and fields can be used across the entire deal cycle, including redlines and modifications from opposing counsel.

Form builders now have the chance to make a huge impact on an industry that has been notoriously slow to adopt change.
3. Woodpecker-Enabled Form Templates
One of my accelerator clients, Expert Dojo, has authorized me to release its modified Y Combinator form. The form provides portfolio companies the choice to accept a $50k or $100k check from Expert Dojo, and in return, Expert Dojo takes 3.5% or 7%, respectively, of the company.

Expert Dojo has scaled to investing in hundreds of companies over the last few years. My client has saved tens of thousands of dollars in legal fees by utilizing this form document automation tool. Woodpecker helped Expert Dojo scale their investment program to becoming one of the largest accelerator programs in Southern California.

Form building technology will fundamentally change the way we practice law. Over the next coming weeks, I will be releasing free, investor-ready templates for emerging fund managers. We'll start small with Safes and eventually release more complicated financing documents like Series Seed dot com set and Series A NVCA Model Legal Forms. Eventually, all of our forms will be automated.

If you would like to take a Woodpecker-enabled form for a spin, just reach out with the contact information below and I'll send you a free copy.
---
If you've already subscribed, thank you so much—I appreciate it! 🙏
Subscribing to the Law of VC newsletter is free and simple. 🙌

As always, if you'd like to drop me a note, you can email me at chris@harveyesq.com, reach me at my law firm's website or find me on Twitter at @chrisharveyesq.
Thanks,

Chris Harvey
---
---